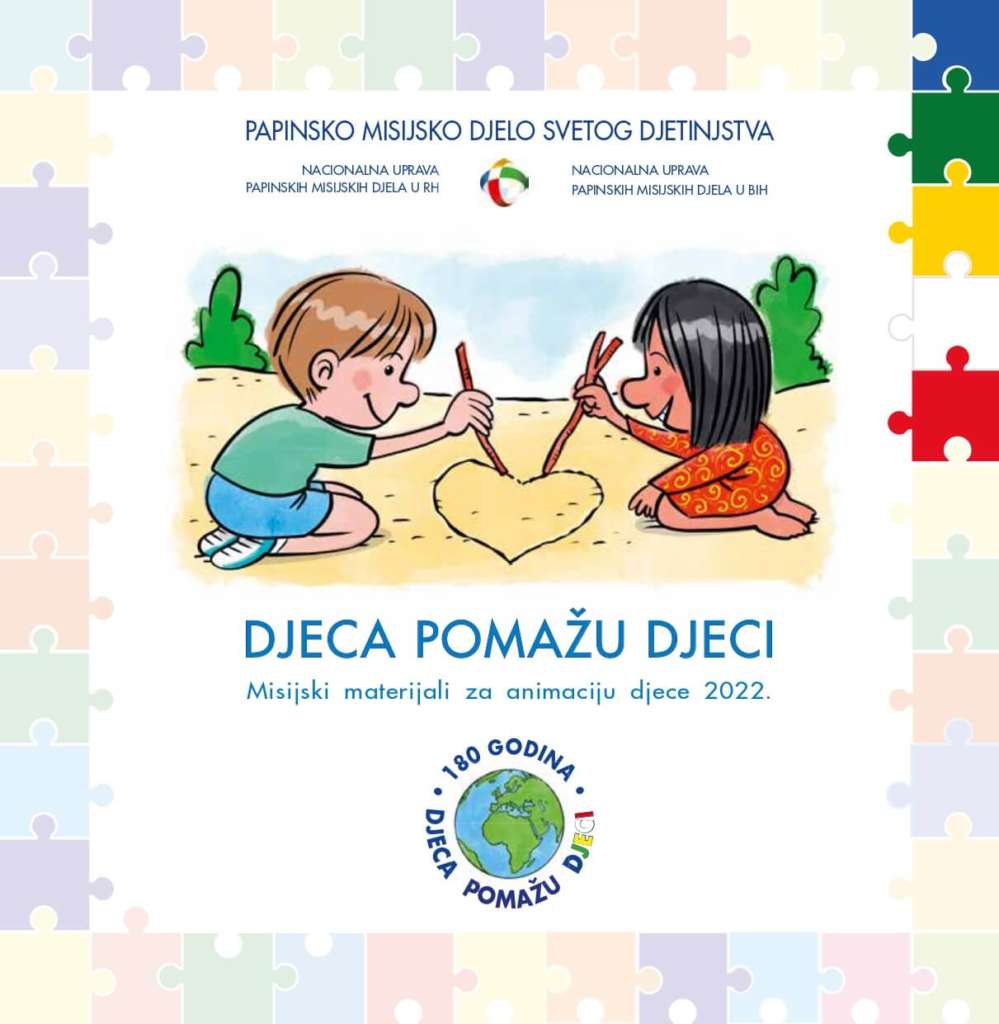 Među velikim misijskim obljetnicama ove liturgijske godine navršava se i 180 godina Djela svetog djetinjstva. U tih 180 godina veliko je dječje srce izmolilo milosti samo Bogu znane, ali i izgradilo u misijskim zemljama mnogo vrtića, škola, ambulanta, bolnica… Djeca cijelog svijeta pokušavaju na različite načine olakšati život svojim vršnjacima u misijama. Svojim djelima ljubavi nadmašili su zasigurno očekivanja samih sebe, ali i svih onih koji rade u strukturama Djela.
Svjetski Dan svetog djetinjstva obilježava se na svetkovinu Bogojavljenja, s geslom: "Djeca pomažu djeci". Na taj dan, zajedno s mladim misionarima sa svih kontinenata, djeca i mladi sudjeluju u animiranju liturgije, senzibiliziranju župne zajednice za probleme nepravde u društvu i prikupljaju sredstava za pothvate solidarnosti na svim kontinentima.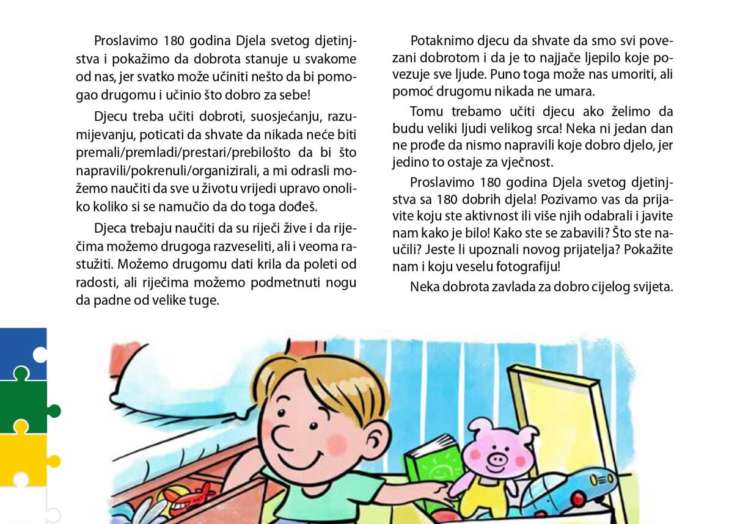 Nesebičnom dječjom ljubavlju Crkva postaje vitalnija i svetija, tako da joj nikakvi lomovi i potresi grešnih ljudi ne mogu nauditi. Što se više djece uključi u to plemenito djelo i podrži evanđeosko geslo "Djeca pomažu djeci", to će današnja Crkva biti više Kristova Crkva, bez ikakva straha za njezinu budućnost. Dječja srca povezana tim geslom stvaraju ocean ljubavi, koji će nadjačati sve bure i oluje koje prijete Crkvi. Nažalost, probleme u Crkvi i izvan Crkve stvaraju uglavnom njezini odrasli članovi, i to često oni članovi koji bi po svojem poslanju djeci trebali biti primjer. Crkva se nalazi u trajnu sukobu između sebičnosti i oholosti odraslih te nesebičnosti i otvorenosti djece. Konačan pobjednik uvijek je veliko dječje srce, koje nam Krist stavlja kao uzor. "Ako se ne obratite i ne postanete kao djeca, ne ćete ući u kraljevstvo nebesko." (Mt 18, 13)
I danas su djeca u mnogim krajevima svijeta bez osnovnih uvjeta za život, prisiljavana na teški fizički rad, prepuštena ulici u predgrađima velegradova, izložena kriminalu ili prisiljavana sudjelovati u ratnim operacijama (osobito u afričkim zemljama).
Dobrota i prijateljstvo prirođeni su dječjemu srcu, a odraslima poticaj da učine svoje srce po dječjem, odnosno Isusovu Srcu. Zato posebno mjesto u novim animacijskim materijalima zauzima naslov 180 dobrih djela za 180 godina Djela svetog djetinjstva. To je riznica ideja i poticaja za sve čitatelje. Tko ih barem 18 prihvati, moći će reći da se ozbiljno pripremio za Božić i Bogojavljenje.
Pjevači Betlehemske zvijezde su nezaobilazni kad se radi o pripravi za Božić i Bogojavljenje. Oni su znak i svjedočanstvo da svatko svojim djelovanjem može mijenjati svijet.
Neka nam svima dobrota bude putokaz u novoj, 2023. godini.