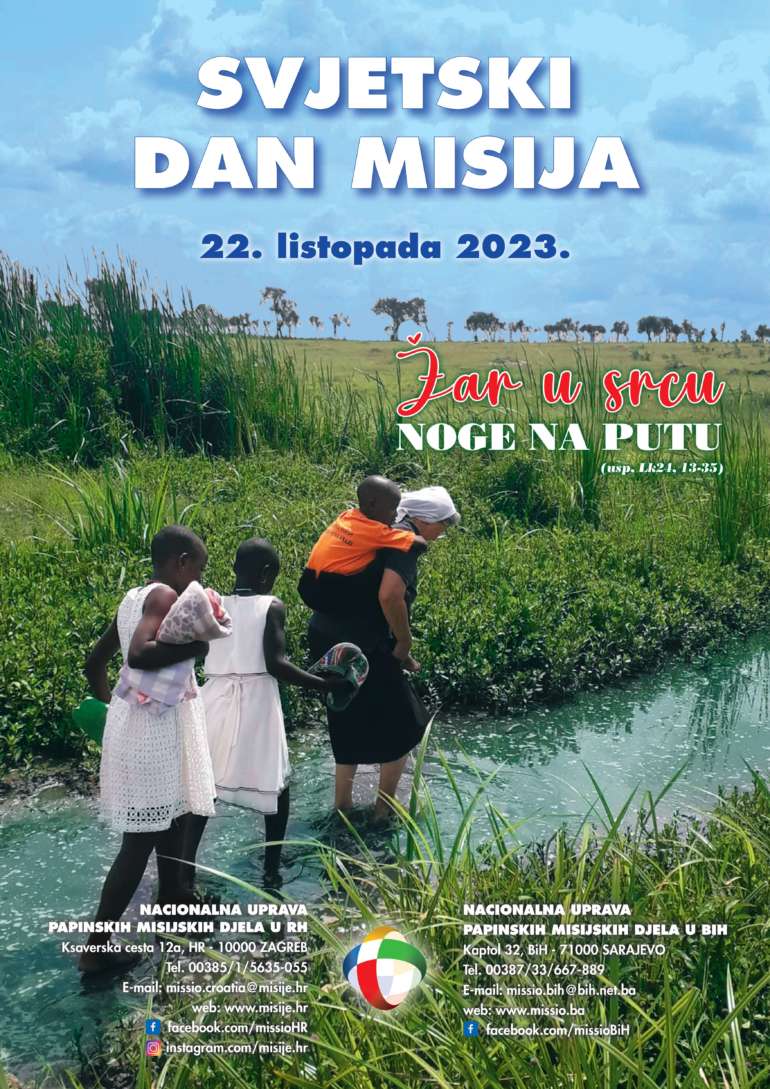 Predzadnje nedjelje u listopadu slavi se Svjetski dan misija i tako još od 1926. godine.
Mjesec listopad počinje spomendanom sv. Terezije od Djeteta Isusa (Mala Terezija), koja je zaštitnica misija, premda je umrla u 25. godini života i nikada nije stupila ni u jednu misijsku zemlju. Geslo svojeg života, "Samo ljubav vrijedi", pretvorila je u molitvu za sve ljude da se spase po Isusu Kristu.
Žar u srcima učenika iz Emausa, koji je upalio sam Isus dok im je tumačio sve što u Pismima ima o njemu te dok je lomio i davao im kruh (usp. Lk 24, 13 – 35) gorio je posebno u Maloj Tereziji te gori i u srcima vjernika tijekom cijele povijesti spasenja. Upravo to iskustvo učenika na putu u Emaus nadahnulo je papu Franju da glavna misao ovogodišnje poruke za Svjetski misijski dan bude: "Žar u srcu, noge na putu."
Mjesec listopad prigoda je da pogledamo dublje u svoje srce i vidimo za čime ono čezne, od čega gori i kamo preusmjeriti njegov plam. Prigoda je to također da se uvjerimo jesu li naše noge na pravom putu, je li potrebno mijenjati obuću i smjer.
Upravo Krist, koji je u njima, ražarit će naše srce da izgara za Boga i bližnjega. Što ono bude jače izgaralo, jasnije će mu biti Božje lice i bit će bliže Bogu, Bogu živomu. Listopadska pobožnost može pojačati našu ljubav prema Blaženoj Djevici Mariji, uvećati našu ljubav prema misijama, produbiti našu vjeru i približiti nas Božjemu kraljevstvu.
 "Neka Misijska nedjelja unese novu svježinu u naš život i bar na jedan dan i jedan trenutak svakomu od nas posvijesti važnost misijskog poslanja Crkve, da svatko od nas svojim marom i zauzetošću, molitvom i dobrim djelima čini ovaj svijet ljepšim i Kristovim Duhom prožetim." (Mons. Ivica Petanjak, biskup krčki, predsjednik Vijeća HBK-a za misije)
Zahvaljujemo na povjerenju i svakoj molitvi i podršci. Neka vaša dobrota bude blagoslovljena!
Za sve dodatne informacije stojimo na raspolaganju i rado ćemo pomoći: missio.croatia@misije.hr
"Stvorena sam da volim i da djelujem. Moj samostan je svijet." (bl. Pauline Jaricot)